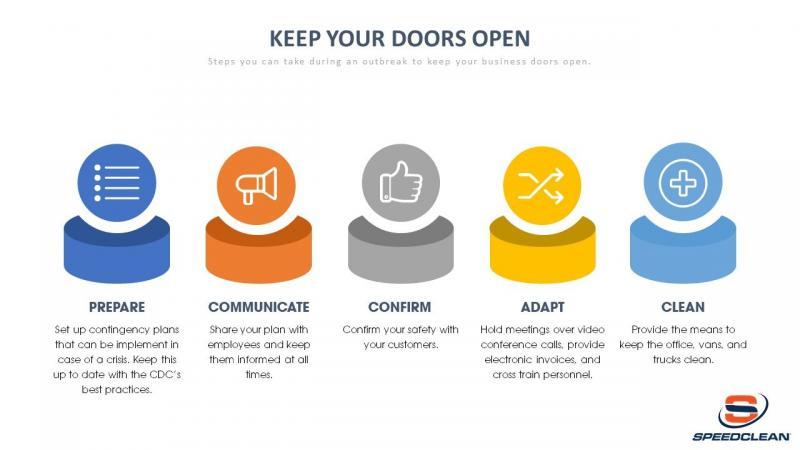 As the novel coronavirus (COVID-19) spreads through the United States, many precautions and sacrifices are being taken to stem the spread. Businesses, schools, and government services are shuttering their doors to keep employees and guests safe. For companies of all sizes, the impact will be high. Larger companies may survive, but there is a significant risk for the small business community. This includes HVAC/R contractors and other service providers and so adapting quickly can be a way to mitigate some of the challenges ahead.
Essential services (and HVAC is one of them) will always be in need. We put together a guide based on CDC resources and from input from the field that you can use to make sure you, your employees, and your business can navigate in this unchartered territory.
Develop a plan: Sometimes, planning is done way ahead of time, and sometimes it's done in the heat of the moment. To many of us, the latter is what is at hand. Create a policy that can be executed in the time of a crisis that can be adhered the company-wide will keep your business and your employees safe. This policy should start with a review of all your vital business needs—finance (receivables and expenses), job supplies, human resources, etc.
A great place is to keep up to date with the CDC and heed all recommendations. The CDC tends to be a primary resource for policymaking (insurance, healthcare companies), and so making sure you are following guidelines may help communicate your actions in the future. You should plan to monitor, respond, and implement plans that help you continue essential business functions in case you experience higher than usual absenteeism. Don't forget to plan for what actions should be taken if the owners of the business should be affected by a crisis. One crucial aspect may be to check for testing centers in your location and make that information available to your employees.
Communicate early and often: This is a bit of a cliche, but one that rings true, especially when misinformation or confusion is at play. Your plan will be worthless if it is not properly shared throughout the business. Share your plan with employees and explain what human resources policies, workplace and leave flexibility, and pay and benefits will be available to them.[i]
Review and adapt as circumstance change: Adaptation is one of the greatest traits of human beings. As humans, we can run for long distances, regulate body temperatures, breathe through our mouths, and walk upright.[ii] So, learning to adapt to the better of the company should be obtainable. In the event of large employee absences, cross-training personnel can allow you to operate as scheduled. To keep human contact to a minimum, creating invoices from home, hold meetings over conference calls or video calls, establish alternative suppliers, prioritize customers, or temporarily suspend/reschedule some of your services if needed, can help keep you, employees, and customers safe.
Work with customers: Communicate often with customers to identify their individual needs and to communicate any changes in policies to protects your employees. Simple questions regarding their recent travel history could provide immediate feedback for you to identify if a risk exists in completing a service call.  Check the CDC's Traveler's Health Notices for the latest guidance and recommendations.
Keep it clean and keep your distance. With all this discussion of planning, the most important thing to remember is to keep your distance from others, including your workforce and colleagues. This includes eliminating handshakes. Keep yourself and your equipment clean. This is the fastest way to reduce the spread of viral infections. Make sure trucks and vans and office are being cleaned daily. Keep wipes and spray in the trucks/vans, throughout the office and bathrooms. Wash hands before and after services calls, and in between if needed. in short. Become a neat freak!
[i] https://www.cdc.gov/coronavirus/2019-ncov/community/guidance-business-response.html
[ii] https://www.businessinsider.com/most-important-human-adaptations-2016-6#these-and-other-abilities-came-together-to-make-our-species-what-it-is-today-a-bunch-of-crazy-apes-that-pretty-much-run-the-planet-21
WHAT DOES IT MEAN?
Outbreak: According to the World Health Organization, an outbreak occurs any time a disease spreads more often than statistically normal in a specific geographic area.
Epidemic: An epidemic is the wide-spread outbreak of disease across multiple communities in a short period of time.
Pandemic: The next level is a pandemic, which is a global outbreak that impacts communities worldwide. (Pan, from your Greek roots studying days, means "everyone".)