We all know when HVAC systems are dirty or filled it can negatively impact efficiency and performance. But dirty HVAC systems can also be a health hazard, causing poor indoor air quality (IAQ) and spreading infectious pathogens. These days people are more conscious of their health and their surroundings than ever before, which leads to a natural focus on HVAC systems and the air they produce.
As an HVAC Technician, you may find yourself in a situation where you have to  – or prefer to – clean coils without chemicals or water. So how would one get that done? A great option is using steam.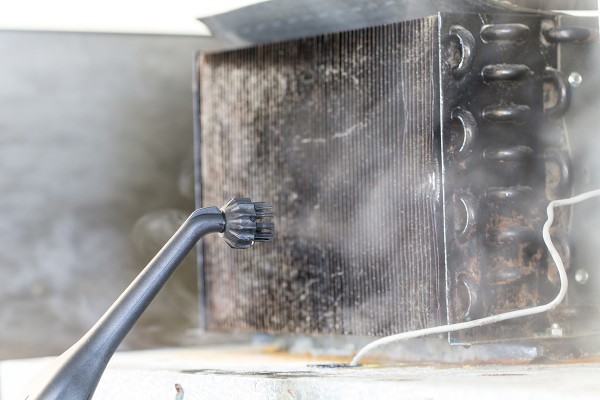 DID YOU KNOW?
Steam is an incredible, natural cleaning and sanitizing agent. It removes grease, oils, dirt, and bacteria, all without one drop of a chemical. Dry steam takes it one step further. It's superheated water vapor that contains only 10% moisture or less at 235-degree temperature.
This means that surfaces are cleaned, and sanitized with very little water residue remaining.
3 Reasons to Consider Steam Cleaning
1. It's chemical-free
When HVAC maintenance is needed in a location where chemicals can not be used, steam is your answer. Steam can penetrate 8" to 12" coils for an extreme clean while most chemical cleaners may only penetrate ½" coils.
2. It kills mold and bacteria
Potentially infectious pathogens like mold, bacteria, and viruses can lie within the HVAC System. The Vapor steam from machines like our Dry Steam Coil & Surface Cleaner is hot enough that on contact destroys and kills harmful pathogens. Spore counts will drop by 99% (and sometimes 100%) in units that are cleaned with steam.
3. It's a good substitute where water is not possible 
Water can create chaos on a job site where water shouldn't be. When cleaning coils in a place where using large quantities of water isn't possible, steam is a great option. It uses a fraction of the water of a sprayer and can easily be wiped up. 
Steam cleaning is your answer to cleaning dirty, greasy coils and other surfaces without harsh, damaging chemicals. It works excellent on air handlers, mini-splits, condensers, exhaust vents, oily commercial kitchen ducts, and more. The power of steam goes deep into coils, cracks, and crevices, lifting and removing stubborn dirt and soils. But most importantly it also kills bacteria, fungus, mold, mildew, and other microorganisms. 
Recommended coil cleaning applications with steam:
Mini Split Air Handlers

Greasy Refrigeration Coils

Dirty Air Handlers

PTAC Systems and more
Use steam – your customers are going to thank you