We asked  Emilie Fitzpatrick, an HVACR Tech for JW Marriott Downtown Grand Rapids, to answer 4 fast questions about her experience working in the HVAC industry. Find out the universal reasons she loves working in HVAC and get her unique perspective as a woman working in this industry.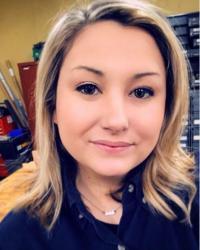 1. How long have you worked in HVAC?
I have worked in the HVAC industry for 3 years.
2. Why do you love what you do?
I love working in the HVAC industry because I am always facing new challenges and the work I do is rarely repetitive. I learn something new every day and I love seeing myself grow in the industry. I think my favorite thing about my job as an HVAC and refrigeration technician is making that customer connection and the feeling of being able to help people/ repair HVACR equipment is honestly one of the most rewarding feelings I've ever felt.
3. In our post, Women in HVAC, we talked about female representation in the industry. Do you have any advice for women thinking about getting in the field?
My advice to any women out there thinking about getting into the field is to go for it. Reach out to companies and look into HVAC educational programs. The industry needs more motivated and empowering women to really step up into the HVAC field. Set goals for yourself, strive to be the best technician you can be, ask questions, and most importantly have fun out there. Working in the field is not always easy, but it's the challenges that you will face that will make you a successful technician and a knowledgeable individual.
4. Did you have any women mentors in the field?
I am just starting to connect with other women in the field through my HVAC social media account. I do not have any mentors currently, but I would love to give a huge shout out and thank you to all the women out there working in the HVAC industry.
To see some of Emilie's work in the field follow her on Instagram: @emilie_fitzpatrick_hvacr