Here at SpeedClean, we love all air conditioning systems. Ducted, ductless, chilled water, packaged units. It's all good. Every now and then though we like to look at newer technologies and give our two cents.
Air conditioning season is on its way, which means several customers will begin asking about the benefits and disadvantages of switching to a ductless mini split system. By now you know most of the ins and outs of these systems, however, a quick refresher is always good, so be prepared to answer the most common questions with ease. Continue reading to review several of the biggest pros and cons of switching to ductless mini split systems.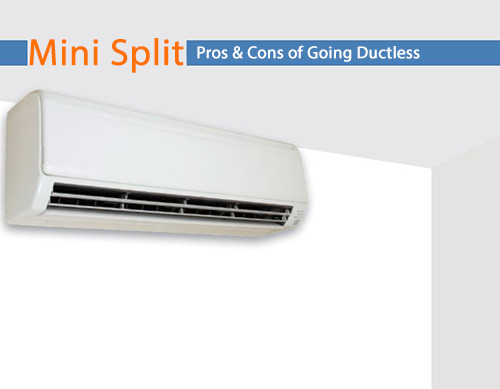 PROS

No ducts

Easy, straightforward installation

Smaller and more compact

Quiet operation

More efficient (SEER)

Area zoning

Better indoor air quality

Easier maintenance
CONS
Initial costs per zone can be higher than whole house, ducted units
Designs can be limiting
Can be unsightly versus ducted systems where ducts are hidden
Limited to cooling specific zones or areas
Sizing up the Differences
Mini split ductless systems can be terrific additions to homes and commercial spaces. They are perfect for retrofitting areas that either can't be ducted or would cost too much to expand the existing system. They are simple and straightforward to install and offer incredible efficiency. However, they are (for the most part) wall hung units so many may see that as a large negative, and ongoing maintenance is absolutely required. Ductless system filtering tends to be quite limited, and the design of the blower wheels and gravity fed condensate are primary areas for organic growth. yuck. Overall, as a contractor, offering up the best option to your prospective customer includes both ducted and ductless solutions.
Best Way to Clean Ductless Mini Split Systems
Now you can also add "easy to clean" to your list of benefits, too. Mini Split Bib® Kit from SpeedClean is the fastest, most effective way to clean ductless mini split coils, fans and more. Almost a million mini split systems are installed annually and these systems require proper maintenance to run their best. Simply cleaning the filters will not keep a ductless system operating at its most efficient – and one of the greatest benefits of using a pressurized water system like the Mini Split Bib Kit, is that it can get inside to thoroughly clean the blower wheel. Even better, it's a mess-free, hassle-free, reliable way to clean mini splits so those that choose to go ductless can get the most out of them in their home.
For more information on Mini Split Bib® Kit from SpeedClean, click here.