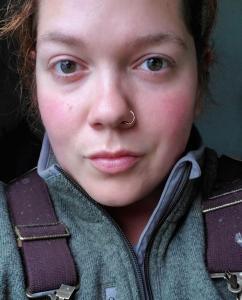 FAST FACTS
In our last Q&A Session: Women in HVAC, we chatted with Samantha DaDalt, the Balancing Division/Insulation Division at Sk Mechanical in Manchester, CT. Samantha has worked in the field for about 15 years and is now a majority owner who manages a crew of 20. Sk Mechanical is even a Connecticut State Registered Women-Owned Business! Over the last two decades, Connecticut's women-owned businesses have grown by 56%. Together, they now contribute more than $16 billion each year to the state's gross state product. Read below to see what Samantha has to say about working in HVAC.
How did you get started in this business?
I got started in this business because my father started his own HVAC company when I was in high school. I went to a technical high school, where I learned various trades in the freshman exploratory program. I ended up focusing on Architectural Drafting as my primary trade. I tried out a few dead-end jobs after I graduated and eventually decided to work with my dad full time.
How long have you worked in HVACR?
I have worked in HVACR for about 15 years
What is your favorite part of working in HVACR?
My favorite part of working in HVACR is that it is something different every day; there is always so much to learn and do. I never get bored! Plus I love meeting new people and checking out cool, behind the scenes job sites that the everyday person may never get to see. I'm sure my friends get tired of me always saying, "I did work there!!"
What benefits do you feel you have being a Woman in HVACR?
I think women naturally have more dexterity and are able to pay more attention to detail than most men.
What obstacles do you feel you have faced as a Woman in HVACR?
Some people have assumed that I'm not the one in charge of the crew leader. Luckily my male team members are always quick to say, "She's the boss, ask her!" I also always get jokes about "not breaking a nail," which drives me crazy, but I laugh it off.
Do you have any advice for women thinking about getting into the HVACR field?
Don't be intimidated to go after it! I wish there were more women in male-dominated trades; employers are definitely looking, I get job offers weekly!
What is one fun fact about you?
Let's see….I'm addicted to calendars and chapstick! 🙂
Make sure follow Samantha's HVAC journey through her Instagram.