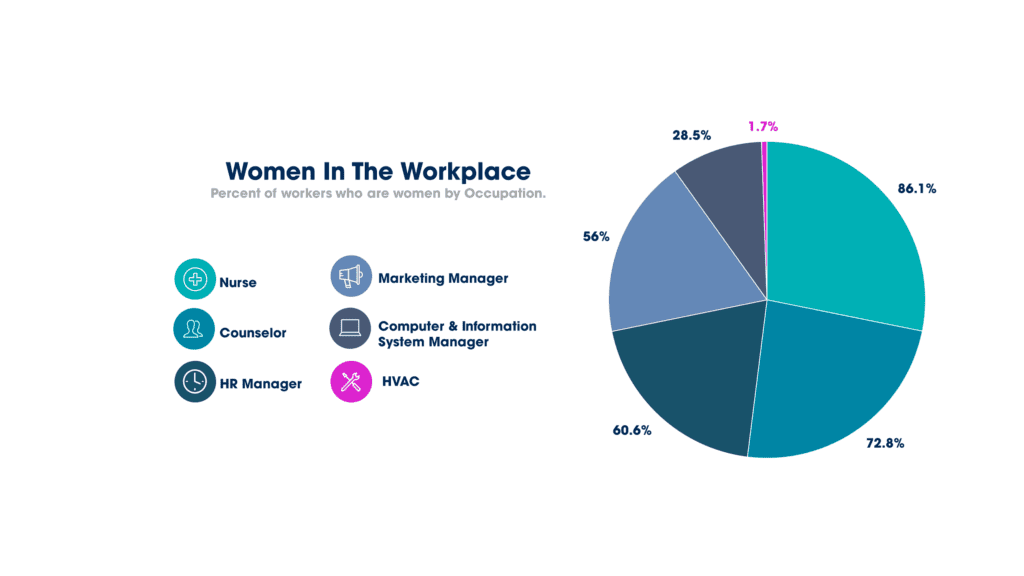 March is Women's History Month, a month where we can reflect on the influence and ways that women have made positive and courageous steps to better our society, both in the past and in the present. At SpeedClean we want to highlight a woman right here in the HVACR Industry who is an active worker in the field.
With only 1.7% of HVAC workers being a woman, we want to take the time to showcase why more women should consider working in this trade.
Take a moment and get a glimpse into the life of Lead HVAC Technician, Lauren Lane, from Ohio who followed in her fathers footsteps:
The snow is coming down fast and hard, roads are becoming risky to drive upon and once again, school students and their families are alerted that today is an official "snow day".

School is canceled. Many kids throughout the homes of Ohio can be heard shouting, "Hooray, I get to sleep in and skip school today!"

But one kid who is not singing, dancing or sleeping in on this "snow day" is Lauren Lane. 
Things were a little different for Lauren. And some might even consider it harsh, or have pity.

But for Lauren, this was her norm. It wasn't frowned upon in her household, it was simply how things were.

"Get your coat and boots on, it's gonna be cold out there. I'll meet you in the truck", says Lauren's dad.

Lauren's dad was an HVAC-technician. And when most people were stuck inside their homes or sitting around a fireplace and sipping hot chocolate he had to get busy. "No-heat" service calls would start pouring into the office, and it was time for him to take action. As a child Lauren was privileged to work alongside her dad and see and learn all sorts of things while running service calls for the family's air-conditioning and heating business. When the majority of kids were stuck at home bored or maybe enjoying getting cozy under a throw blanket watching a movie, Lauren was learning how to use tools and observing problems getting solved, one service call at a time.

As the years went by she grew to be quite handy with tools, and the basics surrounding HVAC became more and more familiar to her, but if you would've asked her back then what she wanted to be when she grew up she would respond with "I want to be a nurse." In her mind, HVAC was still largely "a man's world".
 
Something changed along the way, and when it was time for Lauren to make decisions about her future career path, she considered more deeply how her dad, her grandfather, and even her uncle were doing awesome things in the trades, why shouldn't she join them? Being a nurse might have been great and all, but Lauren wanted to take the road less traveled and start breaking gender stereotypes one career choice at a time and enter the trades. Her family was supportive and encouraging, and under the tutorship of her dad, grandfather, and uncle she began getting crash courses on all things mechanical. She joined the Air Force and while on active duty joined their Trade-School, she had two options: Be a Loadmaster or HVAC Technician.
HVAC Technician it is!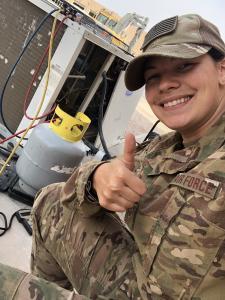 Because of her exposure to the trades and her desire and willingness to learn, Lauren had a head start before even starting Trade-School; she knew all about electricity and the refrigeration cycle like it was the back of her hand. 
Since she was a young child, Lauren remembers being encouraged by her family to do her best at whatever she put her mind to, and that mindset has helped her succeed.
In 2015 Lauren graduated from Trade-School and began HVAC fieldwork by doing PMs (preventative maintenances) for 7 different Ohio State University Hospitals. From PMs on hospitals to being a Lead Technician for both residential and commercial projects at Langley Air Force Base in Newport News, VA., Lauren has seen, learned and experienced much along the way.

She says that some of the greatest joys of her work are how there are many different types of projects to delve into. Lauren enjoys the challenge of being faced with problems and then solving them, taking a crappy, dilapidated system and replacing it with an efficient, new and beautiful system that puts a smile on the customer's face; these are just a couple of ways that make her HVAC career so rewarding.
It's not always rewarding though, sometimes it's a downright, take-me-by-surprise experience.
Like the time Lauren went to a service call to replace a split system. She arrives on the scene and as she walks up to the house she can't help but take note that there are security cameras EVERYWHERE. As Lauren opens the gate that leads to the back yard and walks through to start her system installation, security sprinklers go off like the rain that caused the great flood of old.

Not only is she taken aback, she now gets to run around awkwardly trying to avoid a complete drenching.

Later on, the owner sent her the video that was caught on tape and everyone got some good laughs out of it.
There are indeed challenges and obstacles that Lauren has had to work through as a female in a male-dominated industry. When she arrives on-site to diagnose or complete a call there have been times the customer will look at her in surprise and request that someone more fitted for the job could be sent their way. Or again when instead of being seen as a capable and smart technician, people will assume she is there to clean.

Lauren continues to be surprised at how often people are unaware that there are indeed female forces in the HVACR trade/community. She has grown in confidence and now sees these opportunities to prove to others that HVACR is not only a field for men, but for women and men alike.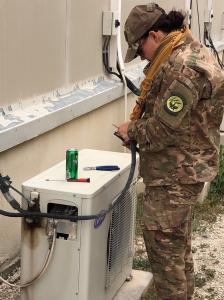 If you think HVAC is boring, Lauren wants others to know that she hopes and plans to stay involved in the trade for the rest of her career. She would love to one day start an overseas contracting business that would expand her dad's HVAC business. 
While working in her day to day job she is also focusing on finishing her BA in government contracting and acquisitions.
HVACR is a place for all of those who want to learn, to put their mind to the task, to solve problems, to advance in their careers…and in short, to show that yes, there are real Superheroes, and they're often right in front of you, making everyday life better and more comfortable, one fixed air conditioner or refrigerator at a time.
"Trades are no longer just a man's world." ~Lauren Lane
SpeedClean and HVAC School are proud supporters of women in the trades, and we'd like to not only use March as a month for highlighting women in the field, but are taking steps and measures to ensure that women everywhere who choose a career in the HVACR Industry will find they have support and encouragement from our teams.
Written and compiled by: 
Leilani Orr HVAC School Contributor/Editor
Website: www.hvacrschool.com
Email: Leilani@hvacrschool.com
Stay tuned for more stories like this and to learn what it is like to be a hardworking woman in the world of HVAC with our Q&A Series: Women in HVAC.