Referral and Affiliate Programs
In this second installment of ideas to help you grow your business we are going to look at two low-cost but tried and true marketing methods: referral programs and affiliate programs.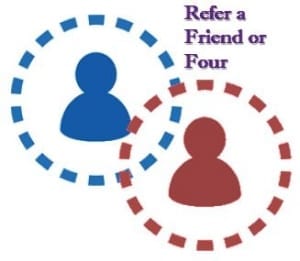 It's Friday night, you are tired from a long week and decide to go out and grab a bite to eat. Imagine a conversation like this?
You: I'm tired and hungry. Let's go get something to eat. Sound good to you?

Her:     You bet, I'm too tired to cook. Where do you want to go?

You:     I don't know, Barry told me that the new taco joint over on Elm is pretty good.

Her:     Suzi had lunch last week at a BBQ place and said the ribs were awesome. They were giving out coupons and she gave me one. It's good for a free beer.

You: Well I could go for some ribs and a free beer. Let's go there.
That BBQ place just outfoxed the taco joint. The owner knew it isn't enough to make an offer to your current customers; you need to extend it to their friends and family as well. The price of a free beer is small compared to the profit on the rest of the meal. The savvy restaurant owner also knows that a happy customer will likely return. Remember the lifetime value of a customer we covered in Part 1?
So are you the BBQ place or the taco joint?
If you offer current customers a special on a pre-season check-up, be sure to leave them some coupons or cards to share with their friends, family, and neighbors. This is the most basic referral program.
Want to step it up a notch? Take a cue from this Laguna Beach pool service company. They offer one month free service for every referral. So start thinking, what can you offer your customers in return for a referral? Pan strips or tablets or what about a filter? Your best advertising is a satisfied customer. So provide an incentive to get them talking.
Selectively Affiliate
Another low cost way of marketing is with an affiliate program. Affiliates are companies that you are willing to recommend that will recommend you in return. It's a great way for small companies to support each other, but you need to proceed with caution. Your reputation is on the line with any affiliate referral you make. The good news is that most companies willing to affiliate are usually concerned about their reputation as well. Here are a few types of companies you may want to approach:
Pool equipment repair

Water filtration and well service

Auto mechanic

Painters

Tile and flooring

Dryer vent cleaning
For example, think of the shop that you trust to maintain your fleet of vehicles. You like the work they do, right? Then why not grab a few of their business cards and leave them some of yours. An affiliate program can be just that simple.
Remember how those coils looked at the job you did after they put down a new tile floor? Of course the SpeedyFoam you used got it clean, but all that debris on the coil is the number one reason that tile companies are your best friend. Make sure it's your card they are handing out when their job is done.
If you have a website, you can offer to affiliate on your website as well. Exchange links with affiliated companies. It builds Google's recognition of your website, and it builds your business as well.
Have you had success with referrals or affiliates? Contact us and tell us your story, we'd love to hear from you.