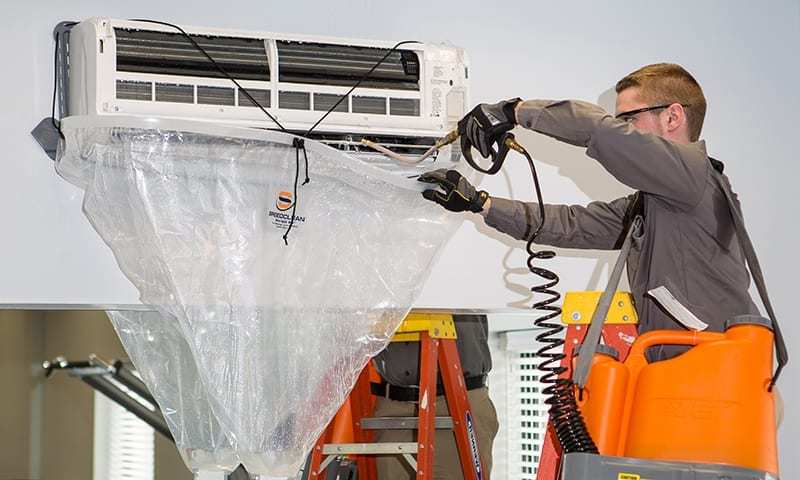 You already know it, but we will tell you again. The mini-split market is hotter than ever and shows no signs of slowing. In fact, Navigant Research predicts the annual revenue from ductless cooling systems will grow to more than $9 billion by 2020.
This is great news for installs, but even better news for ongoing maintenance. If properly maintained, mini split systems will last for years. Would you rather install once, or also come back and clean multiple times a year? The answers are simple.
To help get you headed in the right direction, here are a few simple steps to mini-split maintenance.
1. Inspect and clean mini-split ductless systems. Mini-splits get dirty, fast. Make sure to inspect them often, and preferably twice a year. Dirt on blower wheels, coils and more can cause loss of efficiency and damage….that stinks.
2. Don't use compressed air or nitrogen. This just blows one problem toward the next. Not only does the air get filthy, but displaced mold can get all over the place. It's a real no-no.
3. Use pressurized water the right way. This is the best way to flush dirt and debris and thoroughly clean the coils. While pump sprayers work OK, a portable, battery operated coil cleaning system like the CoilJet® CJ-125for cleaning coils and blower wheels is best. BONUS: The CoilJet® won't damage the fins!
4. Protect walls and floors during coil cleaning. Protect walls, floors and furniture from overspray by using a bib system, like the Mini-Split Bib® Kit, to safely capture excess water and cleaner.
5. Treat coils to prevent the smelly "dirty sock syndrome." Apply an EPA-registered mold and mildew inhibitor to protect against odor-causing bacteria for months at a time. One important safety warning–make sure the chemical is safe to apply while the space is occupied, like Mold Control from BBJ.
6. Remember condenser coils. Dirty condenser coils can drive up the ductless system's heating and cooling costs. SpeedyFoam Condenser Coil Cleaner is a good non-acid, non-fuming, water soluble solution that can be used with the CoilJet® to easily clean condenser coils.
Browse SpeedClean's products for a variety of coil cleaning equipment for ductless and traditional systems that are simple to use and can be operated by one person. The Mini-Split Cassette Bib® Kit makes the daunting task of cleaning ductless ceiling cassettes a lot simpler. The CoilJet® CJ-125 makes it easy to clean HVAC coils, even in hard to reach spots, all without damaging sensitive fins. The popular CoilShot® Condenser Cleaning Tool connects to a garden hose and helps to eliminate mess and waste by using a pre-measured tablets to clean coils.