2016 AHR Expo: Orlando was packed with loads of innovation, exciting technology and emerging HVACR trends for this promising new year. We'd sincerely like to thank everyone who stopped by our booth at 2910 and contributed to making this year's trade show a very memorable one. For those that couldn't attend, here's a brief recap of how we spent these past few days at the world's largest HVACR marketplace.
Cleaning Coils Just Got Easier
While ZoomLock™ Brazen-Free Tube Fittings by Parker Sporlan was receiving its Innovation Award in the tools and instruments category and Nicole Curtis of DIY's Rehab Addict was around signing autographs, the SpeedClean booth was making history of its own with CoilShot®, a revolutionary new condenser coil cleaner that is sure to transform how HVAC technicians clean coils. Those who stopped by booth 2910 were the first to get an exclusive look at our innovative new SpeedClean product, before it hits stores!
Click here to learn more about CoilShot!
It doesn't stop there, we also introduced a few of our other new and special HVAC products that make cleaning coils easier, faster and even more efficient than ever before!
CoilJet® CJ-200E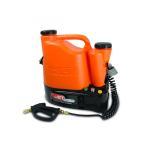 CoilJet-200E is the latest product from our CoilJet product line. It's portable enough to easily clean coils on rooftop units, evaporators, condenser coils, refrigeration coils and offers up to 200PSI of cleaning power at O.5 GPM – so we brought it with us and did a few product demos at 2016 AHR Expo.
Click here to learn more about CoilJet-200E!
Ceiling Cassette Bib® Kit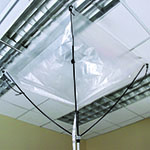 Ceiling Cassette Bib Kit is our latest in the line of ductless cleaning solutions. It simplifies cleaning ductless ceiling cassettes by quickly creating a funnel where water and cleaner can be safely deposited into a bucket for an easy, safe and mess-free job. Simply install Cassette Bib Kit anywhere in seconds. We installed ours at booth 2910 to share this increasingly popular coil cleaning product with the world!
Click here to learn more about Ceiling Cassette Bib Kit!
Next stop, 2017 AHR Expo: Las Vegas! Until then, stay up to speed with the latest SpeedClean innovation and sign up for our email list below.